Our parent company, ZPG, recently commissioned comprehensive research into first time buyers across the UK. Over 1,000 consumers, those who had either brought a house within the past two years or those planning to do so within the next two years, were surveyed, covering a range of genders, ages and locations to ensure a full picture of the British first-time buyer. In this blog we will share some of the key findings from this research including; the increase in first time buyers over the last 5 years, the driving force behind purchases and the reality gap between the expected costs of a purchase and the actual cost. As well as looking at how agents can maximise their exposure to these buyers.
Increase in first time buyers
Despite the current housing supply crisis and the struggles of saving for a deposit, analysis by Hometrack has revealed that first time buyers accounted for 36% of all housing sales in the UK in 2016 compared to 26% in 2011. With many first-time buyers, citing not wanting to waste money renting, wanting a place to make their own and laying down more permanent roots as the key triggers in the decision to purchase their home. This increase could be a result of the government's efforts to help first-time buyers get onto the property ladder, as 46% of these buyers opted to purchase a property through the governments help to buy scheme.
The driving force behind purchases
Alongside the above-mentioned triggers, several other reasons for purchases were highlighted within the research, with 34% stating steady jobs and 18% wanting to invest money. However, there appears to be significant differences between genders when it comes to taking the first step onto the ladder, with men being much more reactive in their search for property whilst women take the lead and are more likely to drive the process.
"I'm not sure of the exact process, to be honest, my girlfriend did a lot of that" - Male new build buyer, Leeds
The reality gap
Interestingly, the report revealed that those currently looking to purchase a property, expect to pay around £167,000, whilst most purchasers end up spending an average of £212,000, resulting in a £45,000 difference. Which could explain why 42% of first time buyers put their plans on hold after starting to research the possibility of buying. This is something that could be set to change though, after the Chancellor's 2017 Budget announcement to waive the first £300,000 of stamp duty on homes worth up to £500,000, with effect from 22nd November 2017. Meaning the stamp duty bill on an average first-time buyer property at £208,000 will now be £0 compared to £1,660 pre-budget, and £5,500 compared to £10,500 for London first time buyers, based on the average London first-time buyer property price of £410,000. A benefit, which the Chancellor claims, will apply to 80% of first-time buyers.
How agents can reach first-time buyers and maximise their opportunities
The first-time buyer journey includes heavy use of property portals right from the start.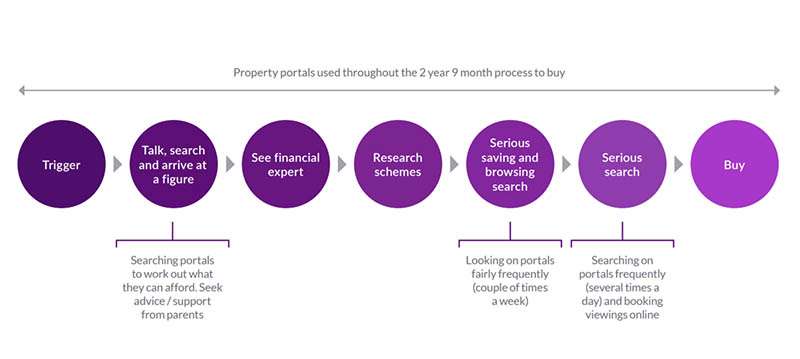 To kick start the process, 81% of these buyers visit a property portal to work out a realistic budget and 74% to see what's currently available on the market. To gain maximum exposure, agents need to market their properties across all major property portals, including Zoopla and PrimeLocation, as well as ensuring that they maximise their other online marketing opportunities, such as PPC (Pay-per-click) advertising, including AdReach, and social media.
AdReach, ZPG's award winning advertising tool, allows agents to promote their business and properties to over 40 million ZPG website visitors across other sites, such as Facebook, by harnessing ZPG data to build a detailed profile of the site users and develop a bespoke retargeting campaign to meet the agent's needs. Helping them to generate more leads and reach engaged audiences, including first-time buyers.
If you would like to find out more about the first-time buyer research, visit the ZPG Advantage website and download the full report.